Thomas Cranmer Window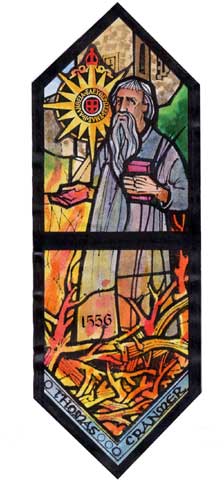 Thomas Cranmer [represents] the wider, deeper, currents of the worldwide Anglican Communion of which we are a part—76 million strong, in 42 provinces,40 all in communion with the Church of England. Anglican Christianity is a reformed catholic faith centered on the authority of the Scriptures, the Creeds, the Sacraments, and the Historic Episcopate—an ancient formula derived by the early Church and common to all three "catholic" traditions. But Anglicanism's uniqueness lies in the vibrant diversity through which these essentials are expressed: as Protestant, Catholic, high church, liberal, evangelical, and holiness/charismatic in varying combinations and degrees. Some stress God's Word, others the sacraments; some the liturgy, others social action; some God's transcendence and objective truth, others God's immanence and our subjective response; each balancing and widening the horizons of the rest.
Thomas Cranmer was the key figure of the English Reformation. As Archbishop of Canterbury under King Henry VIII, he played a complex role in England's break with Rome (including the annulment of Henry's marriage to Catherine of Aragon). Theologically, Cranmer's goal was to return Christianity to its biblical and historic roots, which included abolishing the Latin mass in favor of worship in the vernacular. For the first time ever, English Bibles were available in every church, and after Henry's death, Cranmer produced the first English prayer book—a scriptural, liturgical, and literary masterpiece. Cranmer remained Archbishop through the reign of Edward VI, but when Mary Tudor inherited the throne, Roman Catholicism was reinstated and many reformers were arrested and killed. During his months in prison, Cranmer signed several recantations of his Protestant beliefs. But on the day of his execution, he denied these recantations, proclaimed his reformed beliefs, and held the hand that signed the recantations in the flames as he died. Two years later Elizabeth I became queen, restoring the Church of England and Cranmer's prayer book, which remained virtually unchanged for the next 400 years.
Cranmer was burned at Oxford, March 21, 1556, his face serene as he held his offending hand in the flames. The Compass Rose of the Anglican Communion is the emblem of his legacy. Its inscription (in Greek) reads, "The truth will set you free." This good news bursts outside the compass as it is carried to the four corners of the earth. The Gospel of Christ is meant for all people, places, and times.
Like Stars Appearing: The Story of the Stained Glass Windows of St. George's Episcopal Church, Dayton, Ohio
copyright 2004 by Anne E. Rowland. All rights reserved.
Stained Glass Windows copyright 2000 by St. George's Episcopal Church, crafted by Willet Stained Glass.