Virgin Mary Window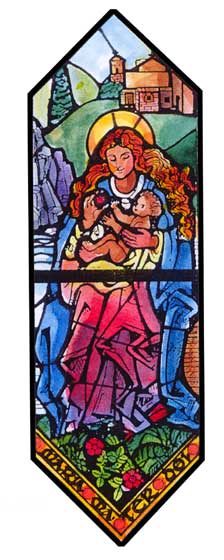 Mary was the one through whom [the] final plan of redemption was begun. When she was a young girl and engaged to Joseph, the angel Gabriel appeared to her. He announced God's plan for her to bear a son named Jesus, who would be the "Son of the Highest" and David's eternal heir. When Mary questioned him about her virginity, the angel explained that the Holy Spirit would overshadow her, and that her child would be the Son of God. Mary accepted the angel's message in humility and obedience, then withdrew to the home of her cousin Elizabeth. It was she who first addressed Mary as the "mother of my Lord," which eventually became Theotokos, the Mother of God. Soon after Mary returned home, she and Joseph traveled to Bethlehem, David's ancestral home (and Joseph's, as well). Here Jesus was born. There was no room at the inn, so instead he was laid in a manger, and on a hillside angels proclaimed the birth of the Savior to the humble shepherds. Later, at his dedication, bystanders recognized Jesus as the Savior and Redeemer; but Mary was warned of the sword that would pierce her soul, foreshadowing her later role as the Mother of Sorrows when her son and Savior died.
The Madonna and Child symbolize the Incarnation. The infant Jesus is not clothed, showing that though he was God, he was also as human as any other child. The Latin title Maria Mater Dei (Mary, Mother of God) stresses the point conversely: Mary's child was not only fully human, but also fully divine. The flowers at Mary's feet are her primary symbol, the thornless rose, and her long golden hair is a historical substitution for her traditional veil. The apple she holds calls forth images of Christ as the second Adam and Mary as the second Eve. The obedience of the second overcame the disobedience of the first, crushing the head of the serpent and vanquishing evil. And as Eve is "the mother of all living," so Mary is the mother of all who believe.
Like Stars Appearing: The Story of the Stained Glass Windows of St. George's Episcopal Church, Dayton, Ohio
copyright 2004 by Anne E. Rowland. All rights reserved.
Stained Glass Windows copyright 2000 by St. George's Episcopal Church, crafted by Willet Stained Glass.