Florence Li Tim Oi Window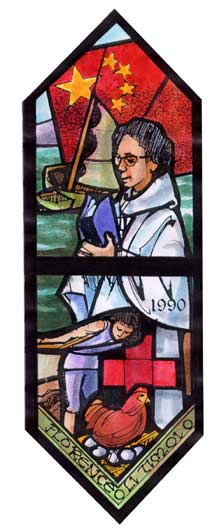 May 5, 2007 Marks the 100th anniversary of the birth of Florence Li Tim Oi
The missionary efforts of the 18th and 19th centuries spread the gospel "to the ends of the earth" and brought into being the worldwide Anglican Communion. Since then, the Church in the East and the global South has continued to grow and increase its influence in the life of the Communion. One of its most welcome gifts to the larger Church came in the guise of a quiet, unassuming Chinese woman, who became the first female to be ordained as an Anglican priest.
Florence Li Tim Oi was born in Hong Kong, in 1907. Her parents were both Christians who often hosted Bible studies and worship services in their home, and Tim Oi grew up loving Jesus. When she was 24, she attended the ordination of a British woman to the deaconate. During the service, the bishop asked if a Chinese lady would also commit herself to the church. Tim Oi's heart responded, and several years later she became a deaconess. The Second World War was raging, and Tim Oi was sent to Macau, where she served as the only ordained person for hundreds of refugees. In light of her extraordinarily difficult circumstances, Bishop Ronald Hall ordained her to the priesthood on January 25, 1944, in order to help her fulfill her heavy responsibilities. When the war ended, Tim Oi had to relinquish her license, which she did without complaint, but she continued to serve the church. After the Communist revolution, Tim Oi was repeatedly singled out for abuse because of her ties to the English "colonialists" and her role as a female priest. She was sent to live in a commune with other Christians, where she raised Chickens and rabbits. Each new political wind brought renewed persecution; yet despite severe hardship and atheistic indoctrination, God seemed ever nearer, and words of Scripture would come to her mind and lift her spirit. In the 1980's Tim Oi was permitted to join family living in Toronto. There, in 1984, she was reinstated as a priest. She spent the last eight years of her life serving her parish and encouraging the acceptance of women into the priesthood, and lived to see the consecration of the first woman bishop.
Twenty-seven years after Tim Oi's ordination, a second group of women was ordained in the diocese of Hong Kong. Several other provinces, including the United States, soon followed suit. Tim Oi's window displays the Chinese flag and highlights Tim Oi's priesthood, as well as the suffering she endured for her service to Christ and his Church.
Like Stars Appearing: The Story of the Stained Glass Windows of St. George's Episcopal Church, Dayton, Ohio
copyright 2004 by Anne E. Rowland. All rights reserved.
Stained Glass Windows copyright 2000 by St. George's Episcopal Church, crafted by Willet Stained Glass.

13 Aug 08 ssw