Sergius of Russia
Window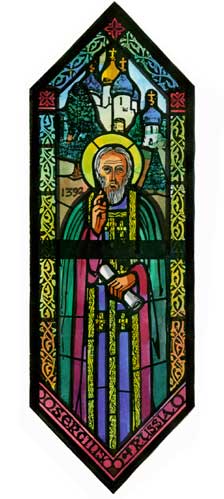 Byzantine Christianity came to Russia at the end of the 10th century, and for more than 200 years it grew and spread. But in the 12th century, the Mongols invaded Russia, massacring bishops and priests, burning churches, and killing or subduing wealthy landowners. The population lived in great fear and despair until the 14th century, when Sergius of Radonezh led a spiritual renewal among the Russian people.
It is said that Sergius was called to serve the Holy Trinity even before his birth. Certainly he became aware of his monastic vocation at a very early age, when a mysterious monk prayed over him, and he miraculously received the ability to read. The monk prophesied that Sergius would serve the Trinity, and then mysteriously disappeared. In his early 20's, Sergius headed into the forest. He built a shelter and a small chapel, which he dedicated to the Trinity; and for years he lived in absolute solitude, reading a Gospel and Psalter, tending a small garden, and befriending a bear cub with which he shared his bread. Eventually, twelve monks came to join him, attracted by his humility and kindness. These formed the community that grew into the famous Monastery of the Holy Trinity, near Moscow. Sergius became known as a wonder-worker and "companion of angels." Many miracles are attributed to him, and angels and flaming fire accompanied him as he celebrated the Eucharist. In matters of state, he was a man of peace, credited with averting four civil wars. But in 1380, as the Mongols were preparing for another invasion, Sergius advised meeting them in battle. The Mongols were defeated, the tide turned, and the liberation of Russia began. As his fame spread, Sergius founded monasteries throughout Russia, revitalizing the spiritual life of the nation. Yet his great influence was always borne with equally great humility. He refused all higher office, remaining a simple monk to the end of his days. Sergius represents the Russian Church, which has become dear to our parish through the work of the Miami Valley Episcopal-Russian Network (MVERN). The window's symbolism is both ancient and new: Sergius' likeness is taken from a 14th century embroidery, while the view of his monastery was captured by the lens of a teen on an MVERN youth exchange. Sergius' hand raised in blessing reminds us of the blessings we have received through our friendship with the Russian Church.
Like Stars Appearing: The Story of the Stained Glass Windows of St. George's Episcopal Church, Dayton, Ohio
copyright 2004 by Anne E. Rowland. All rights reserved.
Stained Glass Windows copyright 2000 by St. George's Episcopal Church, crafted by Willet Stained Glass.