Margaret of Scotland
Window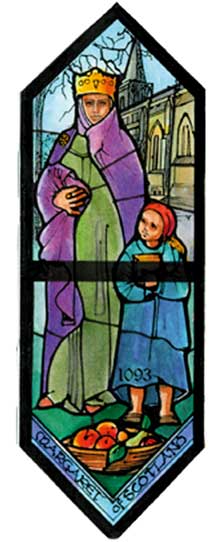 Missionaries from Iona took Celtic Christianity to Scotland, as well as to England, in the sixth and seventh centuries. In England, the Celtic Church soon merged with the Roman Church, and in the 11th century, the Normans reformed Englandís churches once more. But the Church in Scotland remained untouched, isolated from the rest of Christendom until the arrival of Margaret.
Margaret was born in Hungary, in 1046, where her father, heir to the English throne, had gone in exile when the Danes invaded England in 1016. When the crown returned to Anglo-Saxon hands through Edward the Confessor, the family was called back to England to secure the line of succession. But Margaretís father died soon after their arrival, and his family came under the care of the Confessor. Then, after William the Conqueror invaded England, in 1066, they fled to the court of Malcolm III Canmore, in Scotland. Malcolm was quickly taken with Margaret (who was 21), and they soon married. Margaret, educated by Benedictines, had decided to devote her life to God, and though she could no longer become a nun, she found that her new role as queen presented many avenues for service. She had churches built, provided rest-houses and a ferry for pilgrims traveling to St. Andrewís, and through a series of synods, ended the 500-year isolation of Scotlandís Church. Her deep intellect and knowledge of Scripture and the Church Fathers impressed all she knew. This, coupled with her logic, diplomacy, and even-handedness, led the Scottish clergy to willingly accept her suggestions. Malcolm was devoted to her, and saw in her all that was pure and holy. He supported her many works of charity, helping to feeding the hungry and found schools, hospitals, and orphanages. They had eight children together, who became kings, queens, and abbots known for their goodness and sanctity. In 1093, as Margaretís health failed, Malcolm was murdered while on a raid in England. As she lay on her deathbed, a son brought word of his fatherís death. But Margaret already knew. She breathed the words, ďDeliver me,Ē and then she died. Margaret is shown with the children whom she fed, clothed, and educated, standing before one of the churches (St. Margaretís, Edinburgh) she had built. Through her vocation of marriage and motherhood she reformed the Church, served the poor, secured peace (through her descendants), and in so doing, became Scotlandís most beloved saint.
Like Stars Appearing: The Story of the Stained Glass Windows of St. George's Episcopal Church, Dayton, Ohio
copyright 2004 by Anne E. Rowland. All rights reserved.
Stained Glass Windows copyright 2000 by St. George's Episcopal Church, crafted by Willet Stained Glass.