Joan of Arc
Window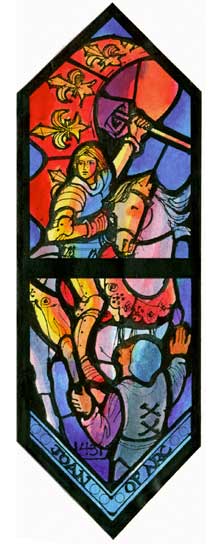 Across the channel from England, France was also suffering from disease and war, and the dauphin (the heir apparent), Charles VII, had little hope of ever ascending to the throne.
Joan was a 13-year old peasant girl when she first heard the voices of saints speaking to her. They comforted her, telling her to be a good girl and go to church often; but eventually they spoke of the "great misery there was in the kingdom of France," and of the mission God had for Joan: to have the dauphin crowned at Reims. Joan resolutely set out to accomplish this task. At first authorities doubted her, but the peasants flocked to her, and at last Joan obtained the escort she needed to reach Charles VII. After meeting Charles and convincing him that she came from God, Joan persuaded him to rescue the besieged city of Orléans. Joan had all the soldiers go to confession before the battle, and did all in her power to minimize bloodshed on both sides of the fighting. The French delivered Orléans in a matter of days, turning the tide of the war. From there, they proceeded to Reims, where Charles was crowned, with Joan at his side. Joan knew her mission was complete, but Charles insisted that she keep fighting. Soon she was captured and tried for heresy by the English. They burned her at the stake on May 30, 1431, at the age of 19. Her last prayer was for the forgiveness of those who condemned her; her last request, for a priest to hold a crucifix high and speak the words of salvation over the roar of the flames. Her sorrow and piety moved even the English. The executioner feared for his own soul, and the secretary to the King of England wept: "We are all lost, for we have burnt a saint!" After the war, Joan was posthumously acquitted, and eventually canonized—the heroine and patron saint of France.
In the hymn "I Sing a Song of the Saints of God," Joan is the "shepherdess on the green;" but in our window, the "Maid of Orléans" is shown in battle carrying the fleur-de-lis of France. Joan is also appropriate (along with St. George) as a representative of Christians here in the Miami Valley, who are called to military service.
Like Stars Appearing: The Story of the Stained Glass Windows of St. George's Episcopal Church, Dayton, Ohio
copyright 2004 by Anne E. Rowland. All rights reserved.
Stained Glass Windows copyright 2000 by St. George's Episcopal Church, crafted by Willet Stained Glass.